Coffee
Vegan
Organic
Lactose free
Cholesterol free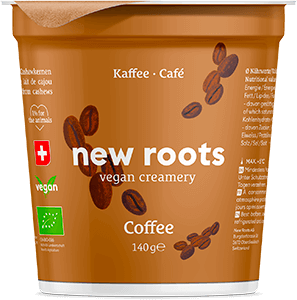 Our yogurt alternatives are made with organic cashews and chickpeas, and plant-based yogurt cultures. Lactose free, cholesterol free, probiotic, Swiss made, fair trade.
Cashew chickpea drink 85% (water, cashews*° 14%, chickpeas* [pasteurized]),
raw cane sugar*°, coffee powder*° 0.8%, stabilizer: pectin, vegan yogurt cultures.
* From certified organic farming CH-BIO-006
° Fair traded
For 100g: Energy 468 kJ, 112 kcal, Fat 5.5g (of which saturated fats acid 1.0g), Carbohydrates 13g (of which sugars 7.5g), Protein 2.6g, Salt 0.01g.
Weight: 140g.
Online shops - select your country
Taste
Our alternative to coffee yogurt is to be eaten as is, with müesli, and can also be used as a base for your desserts. It's organic, fair trade, it contains no additives and its probiotics will take care of your digestive health. It's naturally creamy, nutritious... and delicious!