Coffee
Vegan
Organic
Lactose free
Cholesterol free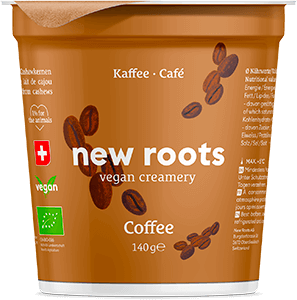 Our yogurts are made with organic cashews and plant-based yogurt cultures.
Lactose free, cholesterol free, probiotic, Swiss made, fair trade.
Cashew drink (88%): water, cashews* (15%), raw cane sugar*, coffee* (1%), stabilizer: pectin, yogurt cultures.
For 100g: Energy 505 kJ, 121 kcal, Fat 6.8g (of which saturated fats acid 1.2g), Carbohydrates 12.1g (of which sugars 7.8g), Protein 3g, Salt 0.02g
Weight: 140g.
Online shops - select your country
Taste
Our coffee yogurt is organic, fair trade, it contains no additives and its probiotics will take care of your digestive health. It's naturally creamy, nutritious… and delicious!