Medium
1h15
Cheesecake with Raspberry Coulis
New Roots
This cheesecake is perfectly smooth, dense, and it's decadent in the most delicious way possible. Treat yourself to an authentic cheesecake without the taste of animal exploitation.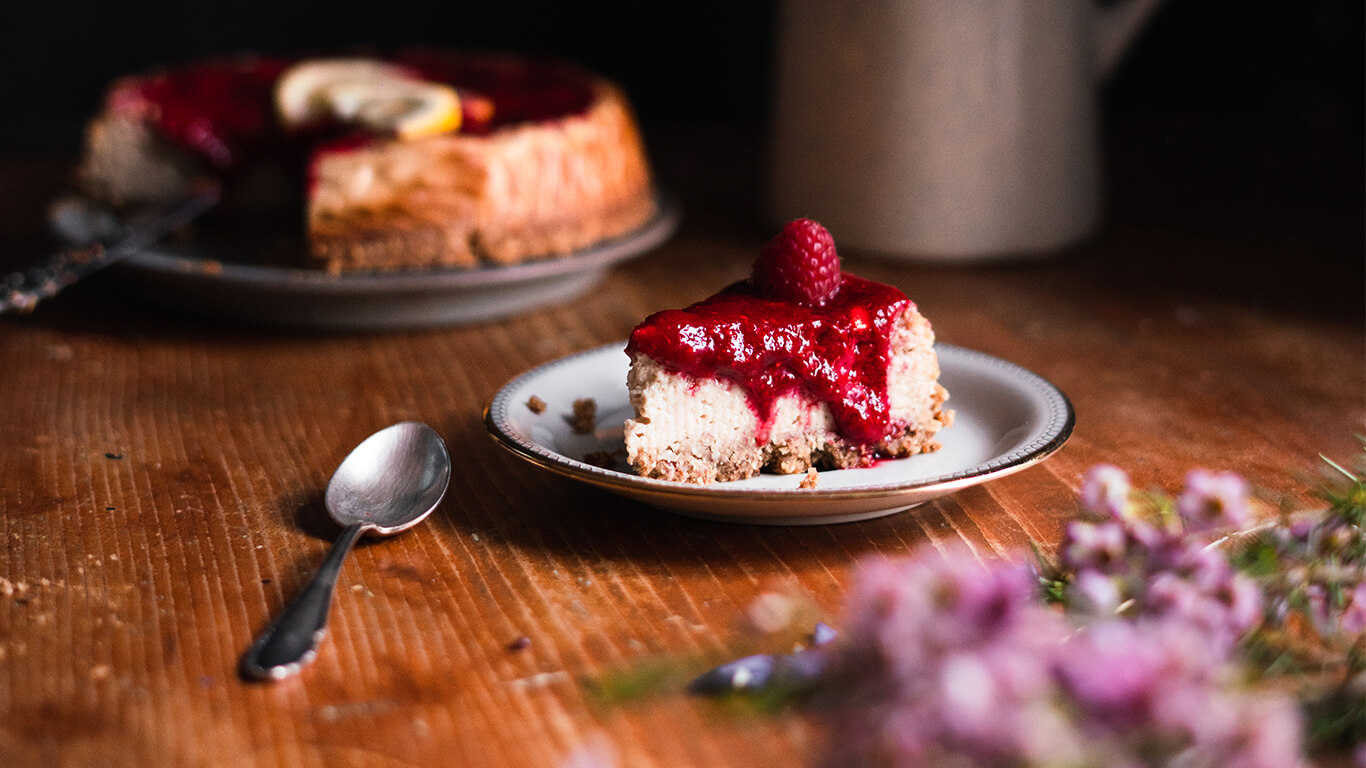 Crust
1/2 cup oats

1/2 cup almonds 

2 tbsp melted coconut oil

2 tbsp agave syrup (or maple syrup, coconut syrup, etc)

1/4 tsp vanilla powder 

Pinch of salt

Alternative: 200g of vegan cookies (such as speculoos) + 1 tbsp melted coconut oil
Filling
400g silken tofu 

2x La Cotta

1/2 cup agave syrup (or maple syrup, coconut syrup, etc)

1 tbsp cornstarch 

1 tbsp melted coconut oil

1 tbsp lemon juice 

1/2 tsp vanilla powder 

Pinch of salt 
Steps
Preheat the oven to 180 degrees C and line your loaf pan with parchment paper. Set aside.

Add oats, almonds, vanilla powder and salt to a blender and mix until well-blended (it doesn't need to be a fine meal).

Transfer to a bowl and add melted coconut oil and agave syrup and mix well with a spoon. The mixture should get sticky and not crumble. If too dry, add a bit more melted coconut oil.

Transfer mixture to parchment-lined loaf pan and spread evenly to distribute. Using the spoon, press against the bottom of the pan until well-packed.

Put in the oven and let cook while you're making the filling.

Add all the ingredients for the filling to your blender and blend on high until very creamy and smooth.




Taste and adjust flavour as needed, adding more lemon juice for acidity, salt for flavour balance, and agave syrup for sweetness.

Remove crust from the oven and lower the temperature to 165 degrees C.




Pour filling over the pre-baked crust and spread into an even layer. Tap on the counter to remove air bubbles.

Bake for 50 minutes to 1 hour, until the edges look slightly dry and the center appears only slightly uncooked (but not liquidy).

Let cool at room temperature, and once transfer to the refrigerator to let cool completely (uncovered). Once cooled, cover (waiting until cool will prevent condensation) and continue refrigerating for a total of 5-6 hours, preferably overnight.

Serve with store-bought or homemade raspberry coulis!
Ultimate delicacy
The combination of silken tofu and La Cotta gives us the perfect basis for a cheesecake that is both light in texture and rich in taste.
This cheesecake will take your tastebuds on a trip to a New York coffee shop!